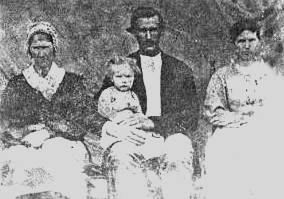 Grandma McGuire, Jno, White his baby and his wife Alva
Courtesy of Del Detrick, a Harris & Bishop Cousin
Del is is about to publish her book on the Harris Family, please check back here for information about the book and how to order one if you are interested. Larry Hall December 2003.
The following was provided by Del Detrick
MARY ANN "POLLY" (ASBERRY) BISHOP-MCGUIRE, her son, JOHN A. WHITE aka, JOHN A MCGUIRE, holding CORA his daughter, his wife, ALVA (KILBY) MCGUIRE.

(John's father was reportedly a Mr. White. He and all the children except the youngest one, Selsus, went by the name McGuire. This picture is from The House of Framciscvs , Vol 11, page 97, 1989. In this book, the caption is "Grandma McGuire". On page 96 of this book is a picture of her daughter, Mary Jane (Bishop) Harris-Lemaster erroneously captioned Mary "Polly) Asberry.)